Gardening for pleasure
Planning and designing your garden

When planning a new garden or improving an existing garden, there are a number of basic things which will affect the design:
Site aspect, space, time and cost
Who will use the garden? Children, pets, older generation, disabled users, etc.
How you use the garden? Do you want beds full of colourful plants, grass on which to play football with children, an outdoor entertaining area or a combination of all of the above?
The amount of time available to maintain the garden also influences choice of layout and plants.
www.garden.ie
has an excellent section on garden design.
Click on
the
link
garden design
on the left hand side of the screen.
Under each aspect of garden design there are different subsections, e.g. town gardens, large front gardens, non-plant features, etc.
To look at any section in more detail
click on
the links you want to read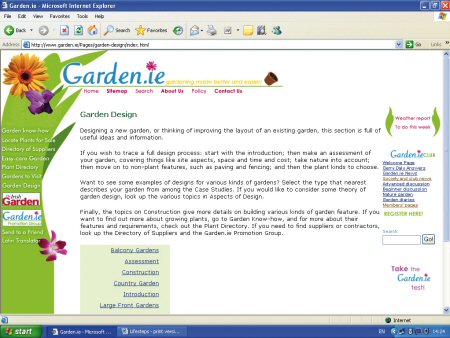 There are also some good design ideas and things to remember when planning a garden on
www.flower-gardening-made-easy.com/gardendesign.html
The links under the heading for
Garden planning information
, at the bottom of this page, may also be helpful.
This is an American
website
so all of the books recommended may not always be available to purchase in Ireland – however they may be available to purchase
online.