Online Art Resources for Children
Almost all of the major cultural institutions, galleries and museums have children's sections on their
website.
These are loaded with fun educational activities and ideas for rainy days. There are also many sites dedicated specifically to children's art and art activities. As with all art-related activities
online,
the
search
can be the most challenging part.
Type in 'art activities for kids mona lisa' into Google
search
box again [keeping to our Mona Lisa theme]. One of the results takes us to a site called Scribbles Kids Art;

This site contains really good art activities for children, some related to the Mona Lisa and others based on the work of artists.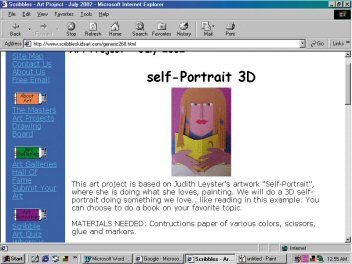 Amongst the many interesting things on this site is a page of Free Downloads.
Click on
this
link,
which is on the left-hand side of the page.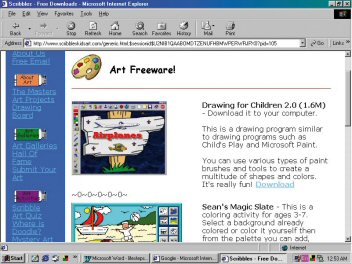 These are drawing/art programmes for children that will be available for use offline once you
download
them.
Click back until you have our results page on your screen again. Another listing is www.kidsdr.com.

This is a fantastic list of links to all kinds of sites relevant to children, not just art links. Another site is
The @rtroom
(www.arts.ufi.edu/art/rt–room).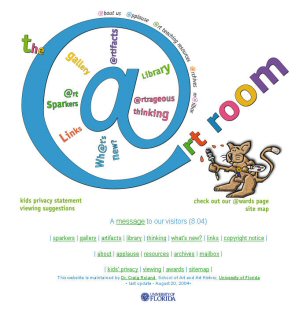 There is enough material here to keep children going for an entire wet weekend! A visit to the sitemap (using the
link
at the bottom of the homepage) brings us to a Mona Lisa gallery (mona lisa gallery listed under @rtifacts) –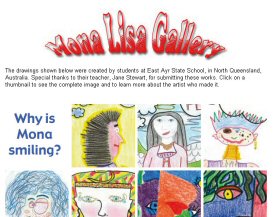 – in the @rchives there is a list of @rtroom's favourite 100 sites for children (e.g. screenshot below), with links! Not to mention all kinds of art projects.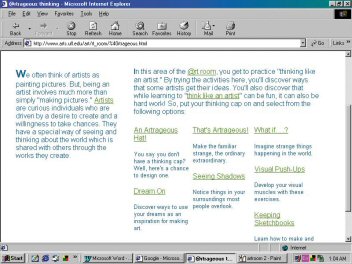 Once again, you will find that following links can bring you to some fantastic sites.