Step-by-Step Guide
This section deals with the actual booking of travel and accommodation. The first example is of booking a flight to Warsaw and the second example demonstrates how to book accommodation in Warsaw.
Flights
Step 1: The Website
In order to book a flight, a bus tour, arrange car hire, book a hotel or a B&B, you need to find a
website
that provides the information and allows you to book
online.
If you have no
website
in mind or do not find what you want in the links section of this guide, you need to use a
search
engine.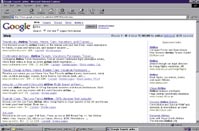 There are many
search
engines but in this instance, Google will be used (
www.google.ie
). This has an option for searching Irish sites or the entire
web.
Choose a site that matches your needs, e.g.
www.aerlingus.ie
Click on the options you require – book or you can use the booking screen on the left of the page.

Step 2: Availability
To find the actual prices, you will have to
search
the site for the dates you want to travel. Pretty much every
online
airline has a search
form
on the front page, to help you find the flights they sell.
Enter the dates you wish to travel to your destination and
return
from it, what time of the day you wish to travel (as there may be more than one flight per day to your destination), the number of passengers and
click on
the
Go
link.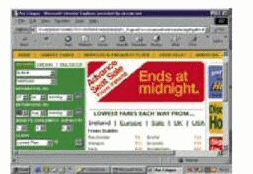 Most sites include
pop-up
calendars or you may wish to have one to hand.
Repeat the searching process until you have found flights that meet your requirements.
When you have found flights that fit your requirements, you may be asked to select them by ticking a box. Having done this for both
outbound
and
inbound
flights, you will see your flight details and the cost per journey, as shown here: