Step-by-Step Guide
Writing
Tip
: Due to the plethora of sites that publish creative writing, it can be difficult to find the most relevant sites using
search
engines. The best way of locating sites is using the links sections of the websites of places like the Irish Writers' Centre (
www.writerscentre.ie
). The links section on the site we focus on first is also extensive. We have also provided a links section at the end of this guide.
The first site we will look at is
Scriobh.com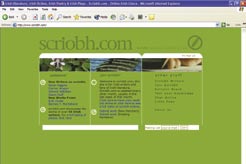 Scriobh.com (
www.scriobh.com
) is an Irish site that publishes
online
writing (short stories, poetry and novel excerpts) as well as providing discussion and bulletin board services. The site is free for first time contributors, very easy to use and regularly updated. With an extensive links section it provides a good place to begin your
online
writing.
Enter
www.scriobh.com
in your
address
bar.
Having arrived at Scriobh.com the first step is to
browse
the material already published on the site. There are a number of ways to access content here:
Select a name from the list under new authors or select the 'full listing of authors'.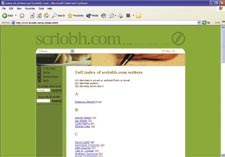 Rather than only printing once-off pieces, this site gives you an area, allowing you to develop a portfolio of published
online
material. Other users can then read this material and comment using the bulletin board.
Before submitting your work it is important to read the site's conditions.

Click on

'Join Scriobh' for details of the site's requirements. Having read the terms and conditions you can begin the submission process. Make sure your work is accessible to you (i.e. stored on your

PC,

or on a floppy disk or

CD

that is already in your PC) before you begin the upload process.

Click on the

link

'Click here to have your work put online' or 'Become a Scriobh.com featured writer'.

Click on 'Browse', locate the required

file

on your

PC

and double

click on

this to upload.

At this point you can upload another

file

or

click on

'Continue'.

At this stage you must fill in the

form

before completing the process. Once again click 'Continue' and complete the

form.



You have now submitted your work. This site is updated regularly and you should not have to wait too long to find out whether your work has been accepted.
If your work is accepted you will then become a featured Scriobh.com writer, and if you wish you will be able to receive opinions/criticism of your work from other readers/writers.