Links
www.irish-music.net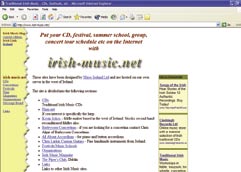 Gives information on traditional instruments and makers, music festivals and schools and links to other Irish music sites including Comhaltas Ceoltóirí Éireann.

www.oddmusic.com
This is a site about odd music and odd instruments and it is interesting in itself.

www.classical.net
This site is informative and educational. It gives you a guide to building your classical collection, reviews CDs and books and it has good links to other classical sites. There are some music clips on this site but not a lot.

www.alltabs.com
This is a free source of music tablatures, sheet music and MIDI soundfiles.

www.musicroom.com
This site looks well laid out and search options include sheet music, tuition books, music software and music accessories. You can search by product, title, song, composer, artist and so on. Prices are quoted in Euro.

www.mp3.com
This site allows you to search for different artists and genres as well as giving information on the different technical terms you come across in searching for music downloads. It is informative and it explains a lot of the technical terms that you come across.

www.od2.com
This is the music provider for Eircom's Music Club, Mycokemusic.com, Wanadoo, Tiscali and others. Although it has over 400,000 tracks to choose from it does not have some big names, like for example the Eagles, Paul Brady, the Beatles.

www.eircom.net/music
The Eircom.net Music Club lets you sign up, buy credits (minimum purchase €3, which gets you 300 streamed songs, or one to three permanent downloads that can be burnt to CD) and listen to, download and save music to CD.
Sites change all the time. Some get better and better with age and others vanish. You will no doubt find other sites in the course of your surfing and searching.