Step-by-Step Guide: How to Download a Track
To provide you with a step-by-step guide to selecting and downloading music, we chose Eircom.net's Music Club. There may be slight variations in the sites but they all operate in roughly the same way and offer the same type of service and product.

Eircom.net's Music Club requires Windows '98, ME, 2000 or XP. It will not work on Windows NT or Windows '95 or Apple Macs.

You need Windows Media Player Version 9 for the DRM software. This can be downloaded from the Internet without any difficulty.

With Eircom you can pay as you go by using your credit card, you can buy credits in advance, and the other option is a monthly subscription. The more credits you purchase at one time, the cheaper the cost.

Go to the address bar on your Internet home page and type in

http://www.eircom.net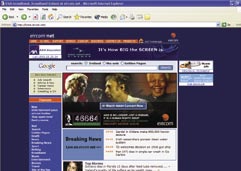 Click on music in the list of options on the left hand side of the page. Click on Buy Credits and the price options come up with the payment method. Take your time to check the prices. At the moment the only method of payment is by credit card but this may change.

Keep in mind as you purchase your credits, that you have three products to choose from, at very different costs.

Purchase Options
You can stream a song, which means that the song will play once (like a juke box). This costs one credit. If you want to play it again, you pay again.

A temporary download costs 10 credits. This means that the song will be downloaded to your PC but it cannot be copied or burnt onto another CD and will be valid only for the duration of your subscription or for one year from the date of rental if you pay as you go.

Permanent downloads cost approximately 139 credits depending on the length of the song. These can be transferred to CD or other portable players including MP3 players.