Step-by-Step Guide
Library Services Available Online
This section explains how to find your local library's
website,
how to
search
its collection, how to order titles, how to use reference resources and how to do local studies research from home.
Finding your local library's website
There are a large number of services available on the
Internet.
By checking your local library's
website
you can access information that will ensure you derive maximum benefit from your next visit to the library. To find the
website
of your local library authority, enter
www.library.ie
in your
address
bar.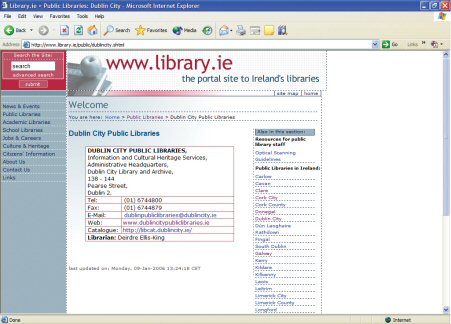 Library.ie is a portal site linking to all of the 32 library authorities in Ireland, as well as a number of academic and special libraries. Clicking
Public Libraries
will give you access to the list.
To find the library nearest to you, locate your local authority on the list and
click on
its web
address.
The local library authority websites provide you with a range of services, available 24 hours a day, from anywhere with
Internet
access. There are a wide range of such services available, and authorities differ in the type and extent of the services they offer on their websites.
Library Catalogues -

online



Most library authorities in Ireland now have their catalogues available
online
– you can find out if your local library authority does, by checking on
www.library.ie
. This means that you can examine their collections and undertake preliminary research when it suits you, even if the library is closed. You can also check the status of an item – whether it is in stock, either in your own branch or in another branch, whether it is out on loan, and when it is due back. In most cases you can do this even if you are not a member of the library.
Many authorities offer extra services for library members. Once supplied with a PIN number, available from your local library, you can check your account details, you can reserve items and you can renew items you already have out on loan.
To enter the Cork City Library
online
catalogue, enter
www.library.ie
into the
address
bar again, choose
Cork City
from the public libraries list and
click on
the
link
http://libcat.corkcity.ie
to the right of the Catalogue heading. This will bring you into the Cork City catalogue.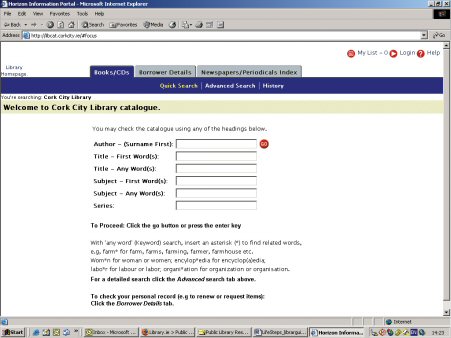 The catalogue allows you to
search
using several fields, including by author or title. It also allows you to undertake other tasks such as perform an advanced
search,
search
the newspaper/periodicals, or even check your borrower details.
Searching through a library catalogue

Remaining with Cork City Library's catalogue, we are now going to
search
for a specific item. Please type in 'transformation of Ireland' into the
Title – First Words
search
box, and
click on
GO.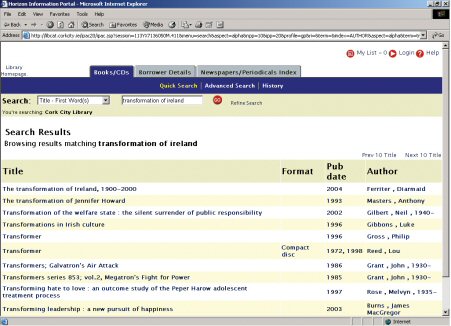 You will get the above set of results. The first result is the one we are looking for.
Click on
the
link
for The
transformation of Ireland, 1900-2000
. Here, the results tell us that the Grand Parade branch library has two copies of the book, and that they are located at subject number or shelf number 941.5082 in the library. You therefore go to where that number is located in the library if you wish to borrow that book (one of the two copies here is located in the reference department, so it can not be borrowed).
There is also the option at the bottom of the page to check if other branches of Cork City Library have this book. If you
click on
this
link,
you will see that there are five other libraries in Cork City that allow you to borrow this book.
If you don't find the book your are looking for try using Borrow Books –
www.borrowbooks.ie
– a new site, developed by Irish public libraries, that makes using the
online
public library catalogues even easier. This site is discussed in more detail below.