Step-by-Step Guide
This section takes each of the following sports: GAA, Soccer, Snooker and Golf, and carries out an action in relation to each one. The first example is signing up for a text alert to your mobile phone from a GAA site, the second example deals with entering a snooker chat room. The third example deals with soccer and participating in a fantasy premier league. The fourth and final example demonstrates how to access video clips on a golf site.
GAA – Text Alerts
Step 1: The Website
In order to sign up for text alerts to your mobile phone, you need to find a
website
that offers this service. If you have no
website
in mind, or do not find what you want in the links section of this leaflet, you need to use a
search
engine.
In this case, however, we are going to enter in the
website
address:
www.hill16.ie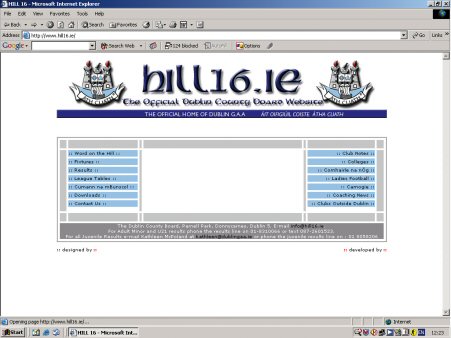 On the
homepage,
click on
downloads
on the
navigation bar
on the left of the screen.

This brings you into a new screen and
click on
the icon above (on the left hand side of the screen) to access the options available to you.
Step 2: Options available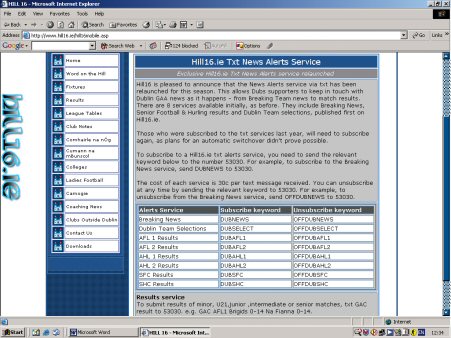 There are eight different services of text alerts available, from breaking news to league and championship results. Decide which option you want to subscribe to. Using your mobile phone, send the relevant
keyword
to the number given on screen. For example, to subscribe to the Breaking News service, send the word DUBNEWS. There is a cost per text message received. You can unsubscribe at any time by sending the relevant
keyword
to the same number. For example, to unsubscribe from the Breaking News service, send OFFDUBNEWS.
Step 3: Advantages & Disadvantages
This service keeps you in touch with the news and results of your team as a match is in play. It is convenient and easy to sign up to and unsubscribe from.
The costs can vary depending on the service you are subscribing to and in some cases might be prohibitive. It is not clear from the information provided how many texts you will receive which means that if you are using a ready-to-go phone your credit may quickly disappear on match days.
You can also check with your mobile phone operator for details of other sports-related text alert services.