Step-by-Step Guide
Step 1: Driver Theory Test
In order to obtain a provisional driving licence in Ireland you are required to complete a Driver Theory Test.
To prepare for the Driver Theory Test you will need to obtain a copy of the 'Official Driver Theory Test', which is available in book & CD-Rom format from:
• Bookshops throughout the country
• The Driver Theory Test Service –
www.dtts.ie
• Public Libraries in Ireland also stock this material for lending
You can find a list of relevant reading material in the
online
version at this at this
address
www.lifesteps.ie
Once you have studied the material you are ready to apply for the test.
How to apply
This can be done by accessing the Driver Theory Test Centre
www.dtts.ie
Click on
How to Book
.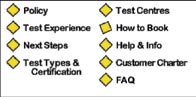 From here you are given the option of downloading the application
form
by clicking on the appropriate
link.
Once opened, the application
form
can be printed by clicking on the
File
menu and then Print.
Alternatively, application forms for the driver theory test can be accessed by downloading them from www.citizensinformation.ie which is an Irish
e-government
website.
http://www.citizensinformation.ie/categories/travel-and-recreation/motoring-1/driving-tests/driver_theory_test