Step-by-Step Guide
We will first look at the National Archives of Ireland Transportation Records Database
(
http://www.nationalarchives.ie/topics/transportation/search01.html
)
and then look at Ellis Island Records
(
http://www.ellisisland.org/search/index.asp
)
Both sites are searchable and free.
1. National Archives of Ireland Transportation Records Database 1788 to 1868
What is it?
An
online
database of 'a wide range of records relating to transportation of convicts from Ireland to Australia covering the period 1788 to 1868. In some cases these include records of members of convicts' families transported as free settlers.'
The database was compiled from transportation registers and petitions to Government for pardon or commutation of sentence. All transportation registers compiled before 1836 were destroyed in the Four Courts fire of 1922. Consequently, if the object of your research was convicted prior to 1836 and their sentence was not the subject of a petition, he or she is not included in this database.
Where can I find it?
The National Archives of Ireland Transportation Records Database can be found at
http://www.nationalarchives.ie/topics/transportation/search01.html
How do I

search

it?
Below is a screen shot of the
search
box on the first page. A
search
is not case sensitive. Simply type your ancestor's last name into the
search
box provided and
click on
the 'Submit Query' button. The default number of records returned after each
search
is 10. You are then presented with the option of retrieving the next 10 etc. so it is not absolutely essential to change this number. Increasing the number will result in receiving more records in more time. This is not an issue if you are using
broadband.
If you are using a telephone line to connect to the
internet,
you should be wary of going above 80 as this generates a
web
page of 80KB (the site tells you that each record is about 1KB in size).

Having searched for 'fitzgibbon', I retrieved 10 records and am told there are 16 records in total.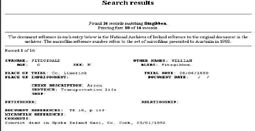 At the bottom of the screen there is a button labeled 'Click here for 6 more records'.

I then tried a more refined
search.
I typed 'fitzgibbon john' in the
search
box and retrieved one record.