Step 2:
Click on the
link
Moving Abroad
and then
Leaving Ireland
.
Here you can find out information on diplomatic support service entitlements for Irish citizens abroad. It also provides you with a list of Irish embassies and consulates abroad if you are out of the country while applying for a passport. It also contains details of the current passport application procedures and rules including details on the requirements for passports for minors.
Click on
Useful documentation to bring when leaving Ireland
to view this information. You can Request an Application
form
online by clicking the
link
Applying for an Irish Passport
.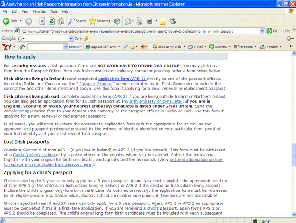 You can also find an
address
and e-mail contact for the Irish Passport Office at the very bottom of the screen should you have any further queries.
In this webpage (shown in diagram below) you need to fill in your details (name,
address,
postcode, country and e-mail address). An e-mail
address
is required to request this
form
online. Otherwise you can apply by post or pick up an application
form
at your local library, Garda Station or Post Office (Note: it must be a Post Office that displays the Service Plus logo.)