Step-by-Step Guide
Step 1
http://www.irlgov.ie
Type in the
address
of the Government of Ireland
website
(
http://www.irlgov.ie
) and hit the '
Return'
or '
Enter'
key. A web
address
can sometimes be referred to as a
URL.
This
website
could be described as the 'front door' to the Irish government
online
as it functions as the 'one-stop', easy-to-use
web
portal to governmentonline services.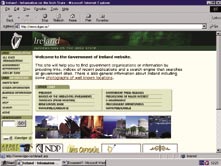 This means you can access information on any government department or state agency.
Step 2
Click on
All State Organisations
to access organisations divided into different categories, such as Central Government, Commercial Semi-State, Education, Government Departments, Local Authority, Other Links (e.g. Northern Ireland Tourist Board), or Police/Defence Forces.
Click
Back
on your web
browser
toolbar to
return
to the previous page.