Worked Example:

Search

Engine
For this example, we are going to try and look for an
evening course in Cork using
www.google.ie
. We will practice Boolean searching. Our

search

topic is
evening classes, and we have decided to narrow down our
search
to Cork only.
On the Google
homepage
type into the search
form
(evening+classes) AND cork. A list of possible matches will be shown.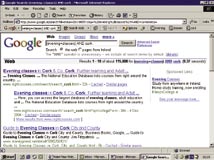 Look through these results to see which would suit you. Let us say for this time that the first option
www.nightcourses.com/search/search_cork.html
is the best option.
Click on the
link
on the Google results to access the page.
On this
website
you can
search
for a course by
keyword,
type of class or county, or all of these options if you choose. There is also a section to
search
for distance learning. This site is very informative offering links to other colleges and courses. There is an added option whereby you can decide to receive a free weekly newsletter from Nightcourse by
email.
The course we are going to
search
for is under languages – Italian.
Click on
Languages
on the left hand side column.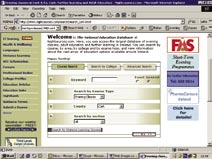 Alternatively you can use the
keyword
section of the search
form.
In this case, as we are looking for Italian classes, we enter Italian here. Choose the county
Cork
.
Click on
Go
.
We are brought to a list of our chosen results on Italian courses in Cork. It found three courses that might interest us in Douglas, Carrigaline and Ashton.
This is an excellent
web
site, easy to navigate and understand. It also has a features section with links to articles and advice on what language to choose for you.