Worked Example: Researching Alzheimer's Disease
This section adds another example to the
online
family health guide. In this case, researching Alzheimer's Disease from the '
Health A to Z'
website.
Note: While this example involves using an international site for our
search,
the basic steps are the same as searching a local site.
Searching the site
Remember; choose the
category
option if available!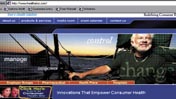 The most relevant part of this site is the '
Consumer Health Site'
option at bottom left. Click here to take you to the next page and select diseases and conditions. From the drop down menu, choose
conditions a-z
,
neurological
and finally
Alzheimer's
.