Starting a Business in Ireland.com
www.startingabusinessinireland.com
This
website
is produced by the Irish business and legal publisher Oak Tree Press and aims to provide information, advice and resources for anyone starting or running their own business. The first page looks like this: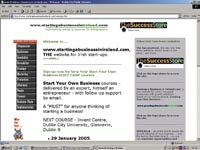 As you can see the screen is divided into three panels:
The centre panel gives items of interest to entrepreneurs, for example information on a series of Start Your Own Business courses
The panel on the right of the screen gives links to other Oak Tree Press websites such as the

online

bookshop The Success Store
The panel on the left of the screen headed 'Planning Your Start-up' has a series of

buttons

that lead to detailed information on the stages of starting a business.
Useful Tip!
Click on
the button marked 'Assistance' for a comprehensive and up-to-date
directory
of sources of assistance, advice and funding available to small businesses in Ireland.
For example, from the alphabetical list in the directory:
Click on the term 'Incubator' and you will get a list of organisations that provide incubation or start-up space and support facilities for new businesses;
Click on the term 'Marketing' for a list of organisations committed to helping small businesses succeed at marketing.
Downloads or printouts available from the website:
Return to the first page by clicking on the 'Home' button to the left of the screen
Scroll down the webpage until you see the word 'Downloads', then
Click on the

link

and follow the instructions to

download

a copy of Starting Your Own Business: A Workbook* free of charge (pdf format)



(*Commissioned in 1997 by the Department of Enterprise, Trade and Employment, written by Ron Immink and Brian O'Kane and published by Oak Tree Press.)