Step 3: Is a cheaper flight available?
A number of
online
services exist that collect and compare prices for similar goods on the
Internet.
They aim to give the user the best price, while benefiting from advertising revenue. A good example for travel is Pricing Central (
www.pricingcentral.com
).
You may wish to
search
other websites separately for cheaper flights.
Not every site or airline will offer a
direct flight,
For example, if you wish to travel to Bologna with Ryanair, you need to complete two bookings – Dublin-Stansted and Stansted-Bologna. You might need to consider leaving plenty of time between flights. Bear in mind that some airlines, at least, do not sell connecting flights – this means that if the first flight is delayed, you will not be compensated for missing the next flight. This 'point to point' type of flight is cheap, but you must be prepared to deal with delays.
Step 4: Read terms and conditions
Before you proceed you may be required to click in a box confirming that you have read and agree to terms and conditions about travel, cancellation, baggage allowance and proof of ID for a 'ticketless flight'. In this case the confirmation notice sent to your email
address
is your flight ticket. Note that some airlines allow less baggage than others.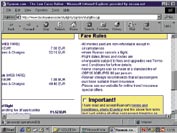 Step 5: Booking with confidence
When booking a flight or a holiday, make sure that it is
bonded,
to ensure that you, the consumer, are protected and that it shows symbols testifying to that. Symbols to look out for are the following:

Step 6: Payment
Once you have everything, you can proceed to pay for the transaction.
Note that airport taxes, fees and charges may be added and you cannot avoid these charges. However, the total, including all such charges, will be shown before you pay, and you can still back out at this stage. A
credit card
is necessary for payment. Some sites may allow you to provide
credit card
information over the phone.
Once you have provided the relevant information-name,
address,
type of card, card number, the only problems that may arise are sections not filled in such as zip/postal code. It may be necessary to put a 'dummy' number there to satisfy the
vendor
site.
Once you have supplied all the information you
click on
the
Continue
or
Proceed
button and await confirmation.
Do not click again if it appears nothing is happening because at this stage your
credit card
is being checked.
A
confirmation email
which includes a reference number will be sent to the
email
you provided -this may include a set of conditions under which the flight was booked such as cancellations etc. and also the same flight information as on your screen, which you may wish to print or save to your hard drive. Remember to check your emails regularly in case the flight details change and to bring the print-out of your flight details when travelling.