Favourite Children's Stories is another heading in this section and includes links to Animorphs, Babysitters, Come Home to Little House (Laura Ingalls Wilder companion site), Guysread (which is a site for guys) and many more links to sites related to popular book series for young readers.

All of the above categories fall under the heading Literature and Languages and the final one we will look at under this heading is Children's Book Awards. This category has just four links and all of the sites listed here concentrate on award winning literature for kids.

The database of award winning children's literature, www.dawcl.com is created by Librarian Lisa R. Bartle. It is clear and well laid out and quite simple to use. The purpose of the site is clearly defined and geared towards parents and teachers and other carers.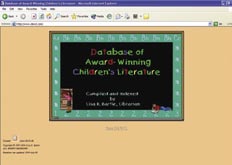 There is an explanation for the awards, when you click on Explanation of Awards on the home page. The awards are worldwide and the list includesthe Irish Bisto Book of the Year Award.

Click on Search DAWCL
You can limit your search by using Age of Reader, Setting, Historical Period,Ethnicity/Nationality of Protagonist, Gender of Protagonist, Multicultural,Languages other than English, Keyword/Phrase, Format, Genre, Year ofPublication, and Award Achieved. There are very good explanations for all ofthese search terms to be found when you click on Instructions.

One word of caution here, do not use all the search fields together. They may limit your search too much and you will not get results. Keep your search relatively simple, using age and genre for example, or one or two other fields. Just keep in mind that all of the books listed in this site have won awards so finding something suitable is relatively easy.

The database has records of books published as far back as 1921. Some of these books would naturally be out of print and therefore would have to be purchased second-hand. The site has recently linked with Barnes and Noble and details of availability and purchase options are available when you click on Order through Barnes & Noble. But do keep in mind that you can take the publication details and check with your local library, they may have the book or may be able to get it for you.

For a full list of websites on reading, publishers and authors please visit our website at www.lifesteps.ie