Choosing your tracks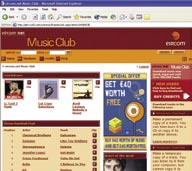 Searching for an artist or title is fairly straight-forward. Genre and artist searching should be used for browsing. The index is fairly large and some artists are listed more than once. Some are there by first name and some are there by surname.
You can choose to
download
a full
CD
or you can create your own compilation
CD.
When you have chosen your artist, their catalogue shows on screen and you must
click on
the
view tracks
option to view the titles on the album. To make sure that you have the right piece of music you can
click on
the '
smart help'
on the right hand side of the screen for a 30-second clip of the song.
The left hand side gives you your options to purchase. Make sure that you do not
click on
the whole album
download
if you want just one or two songs. If you have credits already purchased you could lose those credits.
If you put your selected items into the
basket
for later purchase, you will automatically be asked for your
credit card
details. The fact that you may have already purchased credits, or that you have a subscription account is ignored. Just use the
basket
for immediate shopping with your
credit card.
If you have bought credits go straight to
download
and forget about the
basket
altogether.
Remember your three downloading options: streaming, temporary downloads to your
PC,
and permanent downloads that can be burnt onto a portable device.
You have selected your music choice and
download
choice.
Click on
your
download
option. This example uses permanent
download.
A screen saying "please wait while your media is delivered…" is followed by a dialogue box warning that "some files can harm your
computer.
If the
file
information below looks suspicious do not open or save this file". When you look at the
file
details they should be the title of the album followed by the song title with some source details. Do not open.
Click on
save
. Your desktop will open and ask you to "
Save As
…".
The dialogue box will tell you how long the
download
will take, what it is saving and where it is saving from. When the
download
is complete you close the box. You will find the WMA
file
on your desktop. You can put all of your downloaded songs into one folder or just save them on your desktop.
Some sites will give a choice of media downloads: MP3, WMA or AAC. Select the one that is supported by your media player.